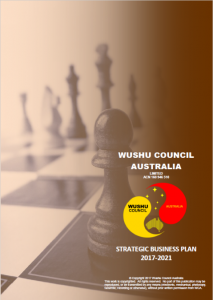 The Wushu Council Australia's mission is to unite Australian Wushu, Tai Chi and Qigong clubs, schools and individual practitioners into a strong community based on the best of traditions and contemporary developments, shared values and business interests aimed at promotion and advancement of Wushu in all its aspects.
We are to foster, develop and promote the art of Wushu, throughout Australia in an environment that encourages the practice of Wushu, in all its forms, by people of all ages to improve their fitness, health and well-being.
Fundamental to our success will be engaging and uniting Wushu, Tai Chi and Qigong practitioners and, thereby, creating a strong and harmonious community that can work together and assist in realising the benefits that Wushu can provide for our members and general public.
Above all, the Vision of the Wushu Council can only be achieved by effective leadership, and by displaying the core values of integrity and quality in everything we do.
See the Strategic Plan (Members only)