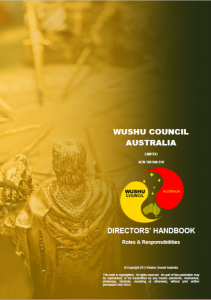 The Wushu Council Australia is managed by the Board of Directors (elected volunteer positions). The Board of Directors and the Council's secretariat are responsible for the conduct and development of the organisation and its operations.
Members of the Council are the state organisations that look after Wushu, Tai Chi and Qigong practitioners residing in the state.
Each state organisation is based on individual membership and governed by the state committee of management.
Both the Council and its state members have partnership with relevant stakeholders, government bodies and commercial enterprises. Both the Council and its state organisations can delegate specific functions to the appointed committees with internal/external expertise.
This document is distributed among the Board Directors and State Committees of management to ensure they are familiar with the roles and responsibilities of the Board Directors.