Sporting and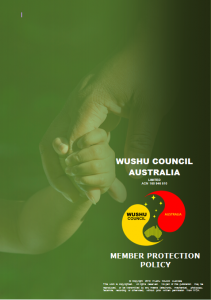 recreational organisations have legal obligations in relation to protection of their members and they also have moral obligations to establish appropriate standards of behaviour and to provide safe environments.
The Wushu Council Australia is committed to providing an environment safe for all Wushu, Tai Chi and Qigong practitioners, that is free from harassment, discrimination and abuse for everyone, and promotes respectful and positive behaviour and values.The policy provides a code of behaviour forming the basis of appropriate and ethical conduct which everyone must abide by.
The Board of Directors is committed to ensuring that everyone associated with the organisation complies with the policy.
Purpose of this Policy
This Member Protection Policy aims to maintain ethical and informed decision-making and responsible behaviours within our sport and art. It outlines our commitment to a person's right to be treated with respect and dignity and to be safe and protected from abuse. This policy informs everyone involved in our sport/art at all levels of his or her legal and ethical rights and responsibilities and the standards of behaviour that are required.